Welcome to the Transfiguration Greek Orthodox church in Charlottesville, Virginia. We are located approximately 100 miles south of Washington DC and have been working with the Orthodox community in Central Virginia for more than 50 years.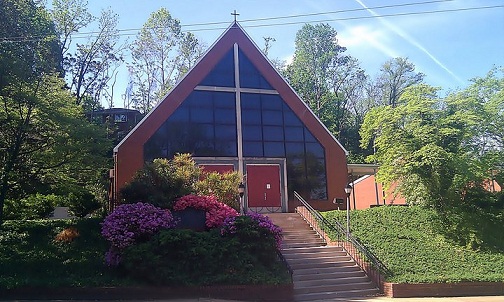 "Welcome one another, therefore, just as Christ has welcomed you, for the glory of God." - Romans 15:7
Through our website, we would like to introduce you to the worship, fellowship and camaraderie of our Parish. Please look through our different pages to become familiar with our church family.
---
Schedule of Services
Our church sevices are now open to the public with our next Liturgy this Sunday, November 1st. Please click here to see the document detailing the Three Phase Parish Reopening Strategy. There will be no coffee hours following Sunday services or any other in-person church meetings until further notice. There will be no Sunday School classes until further notice.
The details of our reopening can be found on our Schedule of Services page. We want to reopen in the safest way possible.
Church services and messages from Father will be recorded and live streamed on his personal FaceBook page. A FaceBook membership and friend request are required. If you are not able to view them, the recordings will be posted on the church FaceBook page, which is public. Anyone is able to view the recordings and a FaceBook membership is not needed.
Church FaceBook: https://www.facebook.com/Metamorphosis-Soteros-Greek-Orthodox-Church-306452500461/?rf=1058774880964061
Upcoming Events & Community Announcements
Our online Bake Sale order pick-ups will take place Friday - Saturday, November 20-21. Please click here for more details and updates.
Father Panagioti is available to come to come to your home if you need help or assistance. Please call him on his celll phone if you do, 434-964-8646, or contact him by email, frpholytrans@gmail.com.
Father will also be holding his office hours, weekdays 10:30AM - 4:00PM. Please call if you need to speak to him and schedule an appointment. If you are still not comfortable meeting in person, please call his cell phone and he we will set aside time to speak about whatever you need.
Please click here to LIGHT A CANDLE TO SUPPORT HELLENIC COLLEGE AND HOLY CROSS SEMINARY.
For those at Holy Transfiguration Greek Orthodox Church in Charlottesville, Virginia, seeking information about the Corona Virus (COVID-19) please use this link to the Virginia Department of Health. It will give you the best information available. We ask that you please be educated, safe, and do not give in to speculation and panic. May God bless and heal all of us both Physically and Spiritually.
http://www.vdh.virginia.gov/surveillance-and-investigation/novel-coronavirus/
November 1 - Daylight Savings Time - Don't forget to turn your clocks back!
November 1 - Sunday Orthros (9:30AM) and Divine Liturgy (10:30AM)
November 8 - Sunday Orthros (9:30AM) and Divine Liturgy (10:30AM)
November 15 - Sunday Orthros (9:30AM) and Divine Liturgy (10:30AM)
------------------------------------------------------------------------------------------
Pleasesee our Church Calendar for more information.
---
Last updated 28 October 2020
Upcoming events:
Orthros
Sunday, November 1 9:30 am
Divine Liturgy
Sunday, November 1 10:30 am
Meeting of the Ladies Progressive Society
Sunday, November 1 12 pm
Parish Council Meeting
Tuesday, November 3 5:30 pm
Hellenic Centre Transfiguration Church 100 Perry Drive
Orthros
Sunday, November 8 9:30 am