Welcome to the Transfiguration Greek Orthodox church in Charlottesville, Virginia. We are located approximately 100 miles south of Washington DC and have been working with the Orthodox community in Central Virginia for more than 50 years.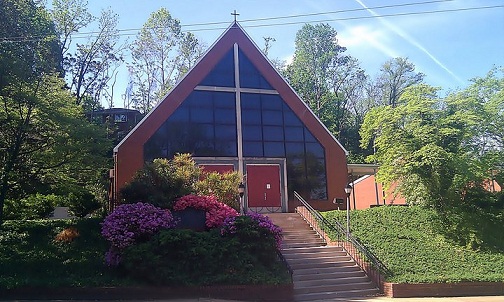 "Welcome one another, therefore, just as Christ has welcomed you, for the glory of God." - Romans 15:7
Through our website, we would like to introduce you to the worship, fellowship and camaraderie of our Parish. Please look through our different pages to become familiar with our church family.
---
Schedule of Services
Please join us this Sunday, October 14th, for Sunday services followed by coffee hour and socializing in the church hall. For the full schedule please see our Service Schedule.
Upcoming Events & Community Announcements

There will be a student luncheon after church on Sunday, October 21st. Menu consists of: Pastichio, Spanakopita, Greek Salad, Cake and beverages. All students are free and Adults $12.00.
We will be having a holiday food drive through Sunday November 18th to assist those in need.
Please bring non-perishable dry or canned food to the church and place them in the church hall to help those less fortunate. Thank you!
Stewardship forms are available for 2018. Please consider becoming a steward of the church. Forms for download can be found on our Stewardship Page.
Fall Greek Fest is coming Friday, November 16th. Click here for more details.
------------------------------------------------------------------------------------------
October 18 - Orthros (8:00AM) followed by Divine Liturgy (9:00AM) - Thursday
October 21 - Sunday Orthros (9:30AM) followed by Divine Liturgy (10:30AM)
October 21 - Student luncheon following Divine Liturgy
October 23 - Orthros (8:00AM) followed by Divine Liturgy (9:00AM) - St. Luke the Evangelist - Tuesday
October 26 - Orthros (8:00AM) followed by Divine Liturgy (9:00AM) - St. Demetrios - Friday
October 27 - Baking koulourakia for Greek Fest Saturday
November 16 - Fall Greek Fest
December 9 - General Assembly Meeting
Please see our Church Calendar for more information.
---
Last updated 17 October 2018
Upcoming events:
Orthros
October 21 9:30 am
Divine Liturgy
October 21 10:30 am
Divine Liturgy - St. Luke the Evangelist
October 23 9 am